It is like a tale as old as time; no look is ever complete without the help of sparkly jewelry. Sure, you can look just as amazing without trinkets on, but it is an undeniable fact that a diamond stud earring or a glitzy cuff bracelet can make you look like a million dollars. That is why jewelry fashion can be traced back to the ancient times when people were creative with their jewelry choices. Modern day discoveries indicated the intricate and savvy way the Ancient people accessorized themselves. Thanks to them and their effort to search for more jewelry-worthy materials, we have fancy jewelry now.
The development of jewelry design has evolved rapidly over the years. The fancy has gotten fancier, brighter, and more expensive. Discovery of more precious metals and gems led to the creation of expensive jewelry. As time went by, the prices of the fanciest and prettiest of jewelry have gone higher. Let's take a look at 20 of the most expensive jewelry of all time and see for ourselves what truly made these little trinkets million-dollar worthy.
THE VIVID PINK DIAMOND BY GRAFF - $11.8 Million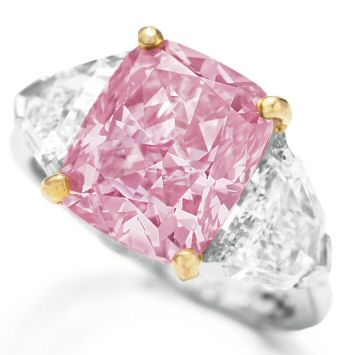 Clear diamonds are, of course, the standard for expensive but did you know that a diamond with a color on it proves to be lingering in the higher price range also? No one could explain why some diamonds tend to have colors on them, but they are extremely rare and considered as expensive jewelry. In the top 20 of our list of the 20 most expensive jewelry of all time is the Vivid Pink Diamond by Graff that costs for a whopping $11.8 Million. This lovely 5-carat pink diamond is complemented by two clear, regular shaped diamond and mounted in platinum and 18k rose gold. This diamond can now sing "I'm so Fancy" with Iggy Azalea because this beautiful, clear, pink diamond is rated fancy because of its high quality. Worth the price, I should say.
WALLIS SIMPSON PANTHER BRACELET - $12.4 Million
Wallis Simpson and former King Edward the VIII did not only cause a stir on the page of love and responsibility, they are still causing a stir in the world of fashion and jewelry. When Wallis Simpson married Edward, he gifted her with exquisite jewelry. When both of them were gone, Wallis' jewels went to auction and one stood out to be considered as part of the most expensive jewelry gifts ever given. This Cartier bracelet resembling a panther auctioned for $12.4 million. Yes, you read it right. This rather unique jewelry piece carried with it precious stones. The body of the panther was all made up of diamonds and onyx while its captivating eyes were made of lavish emeralds. What a gift for true love, isn't it?
EMERALD AND DIAMONDS TIARA - $12.7 Million
It's great (and pricey) things men do for the great love of their lives. This famous tiara belongs to the most expensive jewelry of all time. This was commissioned by Prince Henckel von Donnersmarck to his second wife Princess Katharina. The crown belonged to her for the majority of its life. This 500-carat tiara is remarkable because it features rare, pear-shaped Colombian emeralds which is the highlight of the tiara. It also features silver, gold, some small diamonds but what added to its magical beauty is the cushion shaped diamond gracing the bottom of the tiara. This truly fits a loved royal.
HEART OF THE KINGDOM RUBY NECKLACE - $14 Million
If your gems come from the jewelry house that primarily takes care of the British Crown Jewels, you can be rest assured it is of great quality and belongs to a higher price range. The same case for this lovely Ruby necklace from the House of Garrard, the oldest jewelry house in the world. Garrard created one of the most expensive jewelry of all time with this creation ranging around $14 million. This necklace features a large Burmese ruby weighing about 40.63 carat. The necklace has a string of diamonds weighing 155 carats. I'm sure you will probably feel royalty once you get to wear this special creation.
THE BVLGARI BLUE - $15.7 Million
We have heard about having two peas in a pod but this two diamonds in a ring also deserves our full attention. This rather unique jewelry creation is made up of two expensive diamonds. This was commissioned as a gift for the wife of a rich European collector in the 1970s. Love can truly buy expensive gifts. This ring is made up of one triangular shaped 10.95 carat clear diamond and one triangular shaped 9.87 blue diamond. It is believed that this ring can be sold today at a whopping price of $15.7 million!
CHOPPARD BLUE DIAMOND RING - $16.26 Million
One of the greatest trouble men will encounter in their life is the search for the perfect engagement ring. If you think you got the rarest beautiful girl in the world, you can give this equally beautiful Chopard Blue Diamond Ring. Blue diamonds are of great rarity, and so explains the exquisite price for these expensive diamonds. This ring, in all its glory, features an oval-shaped blue diamond mounted in an 18-carat white gold embellished with more diamonds. I am in love with the triangular-cut diamond that complements the blue diamond so beautifully. This expensive jewelry costing $16.26 million is a perfect engagement ring for your perfect girl.
THE GRAFF VIVID YELLOW - $16.3 Million
This precious yellow diamond is a proof that sometimes, we need to do some hard work to make something beautiful. It took approximately nine months to the famous jewelry house Graff to carve and create a gemstone that is as stunning as this. This rare, 100-carat yellow diamond on a yellow gold band takes the cake for being a rarity and beauty. The effort put into this explains why this expensive diamond is available for $16.3 million. We are talking about quality at its finest here.
HEART OF THE OCEAN NECKLACE - $17 Million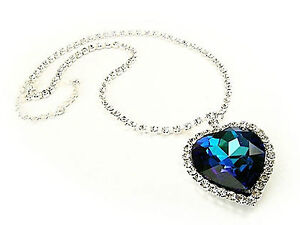 The next jewelry on our list is probably one of the most iconic jewelry of all time. You remember this famous jewelry from the movie Titanic, the famous Heart of the Ocean necklace. This beautiful necklace can't help it but remind us of the heart-wrenching legend of a movie. The famous jewelry and the romantic story that goes with it inspired famous jewelry maker Harry Winston to create a replica of the famous necklace. The replica featured a blue diamond pendant surrounded by smaller clear diamonds. The chains of the necklace are embellished with sparkly diamonds, a clear explanation why this Heart of the Ocean necklace costs $17 million.
BLUE BELL OF ASIA - $17.3 Million
The Blue Bell of Asia does not only feature sparkly on its specs; it also carries with it a record-breaking cushion-cut sapphire stone as a primary attraction. This beauty costing $17.3 million does not only feature the precious blue sapphire but it its chains and tails are also diamond-embellished. Enough sparkle for such a huge price, eh?
1912 CARTIER BROOCH - $17.6 Million
All good things come in threes; they say, expensive ones, too. Take this Cartier Diamond Brooch as an example. This lovely piece of expensive jewelry features three unique diamonds. The largest one is a whopping 34-carat pear-shaped diamond. An oval-shaped diamond with 23.55 carats is the middle one in the set. The last one, a small, marisque-shaped, 6-carat diamond completes this dazzling set that costs $17.6 million.
THE PERFECT PINK DIAMOND - $23.2 Million
Wondering how this exquisite piece of jewelry got its name? According to experts, it is a rarity to find a diamond with a flawless rate in terms of color and quality. Some pink diamonds' clarity and color are sometimes tinted with orange or brown. That is why this perfect pink diamond earned a value worth $23.2 million because of it's, well, perfectness. Aside from its stellar color, this diamond weighs 14.23 carats, another rare pink diamond feature. When this was auctioned, the buyer didn't have second thoughts and immediately slashed out $23.2 million for it. Wow. Just wow.
THE WINSTON BLUE - $23.8 Million
This Winston blue diamond is probably one of the most expensive diamond engagement rings sold in the world. With a weight of 13.22 carats, this rare and beautiful blue diamond's value come with a $23.2 million price tag.
CHOPARD 201-CARAT WATCH - $25 Million
Just when you thought that Chopard was only for watches, they proved you wrong with this gem-embellished timepiece. This watch features 874 diamonds of various colors and sizes and it's clearly hard to say that the buyer was probably after the watch. The mountain of sparkly jewelry and stones earned this precious trinket a price tag of $25 million. Now, what time is it again?
HUTTON-MDIVANI JADEITE NECKLACE - $27.4 Million
Jade, ruby, diamond, do you now see why this next jewelry bags one of the top spots of our 20 most expensive jewelry of all time list? A number of known people have owned this precious jade necklace. This trinket features 27 jade beads clasped up together by a platinum and gold clasp. A lovely touch of red is provided by the ruby stone. This comes in at $27.4 million dollars, so I guess it's safe to say that one jadeite bead costs $1 million. A little ridiculous, isn't it?
THE DIAMOND BIKINI - $30 Million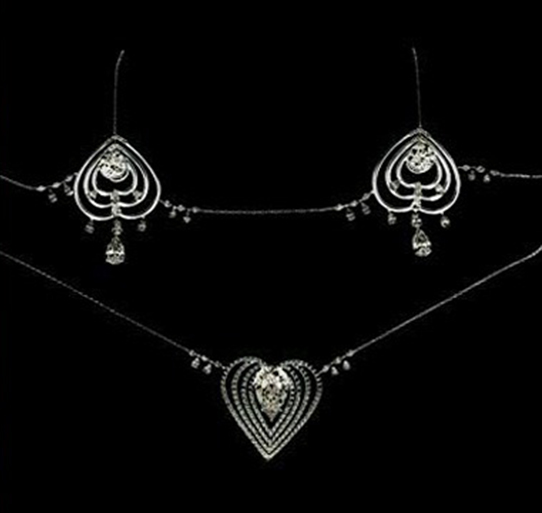 The famous diamond bikini graced the covers of Sports Illustrated magazine, and it did not get there because its covering capacity is only 20% but because this diamond bikini costs $30 million. Too fancy for a diamond bikini? Not quite, considering that this bikini comes with 150 diamonds. Again, 150 diamonds! The model, Molly Sims, even felt quite unsure of wearing such delicate bikini. I could not blame her, though.
THE ZOE DIAMOND - $32.6 Million
When the famous horticulturist Rachell Mellon died, her possessions were put into auction. Her one property that was sought after was this Zoe Diamond. This 9.75 blue diamond was prized highly not only because of its rarity but also because of its vivid characteristic. A winning bid of $32.6 million made this Zoe diamond the most expensive blue diamond ever sold both in total and in carat-per-carat price.
THE GRAFF PINK - $46.2 Million
The rare vivid pink color of this ring, its 24.78 carats feature, and the fact that this was once owned by the famous jewelry maker Harry Winston made this ring a sought after one. At an auction, this ring was bought for a winning price of $46.2 million making it one of the most expensive jewelry of all time.
L'INCOMPARABLE DIAMOND NECKLACE - $55 Million
Some of the most beautiful things come alive because some accidents happen. This case is the same for the L'Incomparable Diamond Necklace. A little girl from Congo accidentally discovered a chunk of diamond and thus, the creation of this necklace. This diamond necklace is truly incomparable because the central diamond is the only gem in the world that is internally flawless. The diamond weighs 407.48 carats while the diamonds surrounding the necklace tallies in 230 carats. An incomparable price tag also follows this necklace showing in $55 million.

PINK STAR DIAMOND RING - $72 Million
Move aside, Graff Pink Diamond, this Pink Star Diamond comes at number 2. This 59.6-carat diamond was said to have features and quality unlike any other diamond out there, according to experts who saw the actual pink star diamond. This sold at an auction at $83 Million.
WITTELSBACH-GRAFF DIAMOND - $80 Million


Now, here we have the number 1 most expensive jewelry of all time. This was originally purchased by the famous Laurence Gaff. He paid $23.4 million for a 35.56 carat blue diamond. Much to other jeweller's dismay, Graff altered the blue diamond and removed approximately 4 carats of diamond which resulted to an enhanced clarity and quality. The price for this sky rocketed for $23.4 million to $80 million. That is surely something.
There you have it, ladies and gentlemen. What do you think of the jewels? Are they worth the price?
Don't sit there waiting. Keep sparkling, darling!